The Sound of N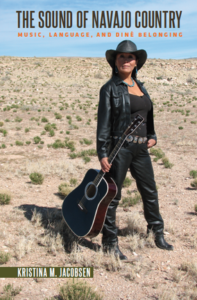 avajo Country: Music, Language, and Diné Belonging
(University of North Carolina Press, 2017; Critical Indigenities Series, eds. J. O'Brien and J.K. Kauanui)
By Kristina M. Jacobsen, University of New Mexico
In this ethnography of Navajo (Diné) popular music culture, Kristina M. Jacobsen examines questions of Indigenous identity and performance by focusing on the surprising and vibrant Navajo country music scene. Through multiple first-person accounts, Jacobsen illuminates country music's connections to the Indigenous politics of language and belonging, examining through the lens of music both the politics of difference and many internal distinctions Diné make among themselves and their fellow Navajo citizens.
As the second largest tribe in the United States, the Navajo have often been portrayed as a singular and monolithic entity. Using her experience as a singer, lap steel player, and Navajo language learner, Jacobsen challenges this notion, showing the ways Navajos distinguish themselves from one another through musical taste, linguistic abilities, geographic location, physical appearance, degree of Navajo or Indian blood, and class affiliations. By linking cultural anthropology to ethnomusicology, linguistic anthropology, and critical Indigenous studies, Jacobsen shows how Navajo poetics and politics offer important insights into the politics of Indigeneity in Native North America, highlighting the complex ways that identities are negotiated in multiple, often contradictory, spheres.
---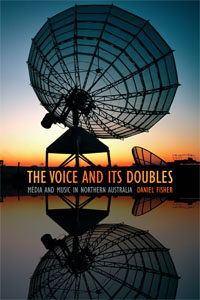 The Voice and Its Doubles: Media and Music in Northern Australia
(Duke University Press, 2016)
By Daniel Fisher, University of California, Berkeley
Beginning in the early 1980s Aboriginal Australians found in music, radio, and filmic media a means to make themselves heard across the country and to insert themselves into the center of Australian political life. In The Voice and Its Doubles Daniel Fisher analyzes the great success of this endeavor, asking what is at stake in the sounds of such media for Aboriginal Australians. Drawing on long-term ethnographic research in northern Australia, Fisher describes the close proximity of musical media, shifting forms of governmental intervention, and those public expressions of intimacy and kinship that suffuse Aboriginal Australian social life. Today's Aboriginal media include genres of country music and hip-hop; radio requests and broadcast speech; visual graphs of a digital audio timeline; as well as the statistical media of audience research and the discursive and numerical figures of state audits and cultural policy formation. In each of these diverse instances the mediatized voice has become a site for overlapping and at times discordant forms of political, expressive, and institutional creativity.
---
Upward, Not Sunwise: Resonant Rupture in Navajo Neo-Pentecostalism
(University of Nebraska Press, 2016)
By Kimberly Jenkins Marshall, University of Oklahoma
Upward, Not Sunwise explores an influential and growing neo-Pentecostal movement among Native Americans characterized by evangelical Christian theology, charismatic "spirit-filled" worship, and decentralized Native control. As in other global contexts, neo-Pentecostalism is spread by charismatic evangelists practicing faith healing at tent revivals.In North America, this movement has become especially popular among the Diné (Navajo), where the Oodlání ("Believers") movement now numbers nearly sixty thousand members. Participants in this movement value their Navajo cultural identity yet maintain a profound religious conviction that the beliefs of their ancestors are tools of the devil.
Kimberly Jenkins Marshall has been researching the Oodlání movement since 2006 and presents the first book-length study of Navajo neo-Pentecostalism. Key to the popularity of this movement is what the author calls "resonant rupture," or the way the apparent continuity of expressive forms holds appeal for Navajos, while believers simultaneously deny the continuity of these forms at the level of meaning. Although the music, dance, and poetic language at Oodlání tent revivals is identifiably Navajo, Oodlání carefully re-inscribe their country gospel music, dancing in the spirit, use of the Navajo language, and materials of faith healing as transformationally new and different. Marshall explores these and other nuances of Navajo neo-Pentecostal practices by examining how Oodlání perform their faith under the big white tents scattered across the Navajo Nation.
---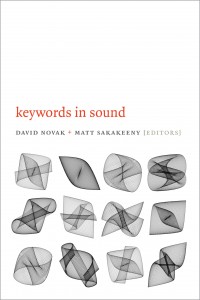 Keywords in Sound
(Duke University Press, 2015)
Eds. David Novak & Matt Sakakeeny
In twenty essays on subjects such as noise, acoustics, music, and silence, Keywords in Sound presents a definitive resource for sound studies, and a compelling argument for why studying sound matters. Each contributor details their keyword's intellectual history, outlines its role in cultural, social and political discourses, and suggests possibilities for further research. Keywords in Sound charts the philosophical debates and core problems in defining, classifying and conceptualizing sound, and sets new challenges for the development of sound studies.
Contributors: Andrew Eisenberg, Veit Erlmann, Patrick Feaster, Steven Feld, Daniel Fisher, Stefan Helmreich, Charles Hirschkind, Deborah Kapchan, Mara Mills, John Mowitt, David Novak, Ana M. Ochoa, Thomas Porcello, Tom Rice, Tara Rodgers, Matt Sakakeeny, David Samuels, Mark M. Smith, Benjamin Steege, Jonathan Sterne, Amanda Weidman.
David Novak is Associate Professor of Music at the University of California, Santa Barbara, and the author of Japanoise: Music at the Edge of Circulation, also published by Duke University Press.
Matt Sakakeeny is Associate Professor of Music at Tulane University, and the author of Roll With It: Brass Bands in the Streets of New Orleans, also published by Duke University Press.
_________________________________________________________________________________________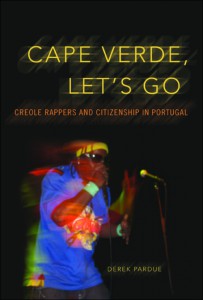 Cape Verde, Let's Go: Creole Rappers and Citizenship in Portugal
(University of Illinois Press, 2015)
By Derek Pardue, Aarhus University
How Cape Verdean rappers complicate ideas of Europeanness in contemporary Portugal
Musicians rapping in kriolu–a hybrid of Portuguese and West African languages spoken in Cape Verde–have recently emerged from Lisbon's periphery. They popularize the struggles with identity and belonging among young people in a Cape Verdean immigrant community that shares not only the kriolu language but its culture and history.
Drawing on fieldwork and archival research in Portugal and Cape Verde, Derek Pardue introduces Lisbon's kriolu rap scene and its role in challenging metropolitan Portuguese identities. Pardue demonstrates that Cape Verde, while relatively small within the Portuguese diaspora, offers valuable lessons about the politics of experience and social agency within a postcolonial context that remains poorly understood. As he argues, knowing more about both Cape Verdeans and the Portuguese invites clearer assessments of the relationship between the experience and policies of migration. That in turn allows us to better gauge citizenship as a balance of individual achievement and cultural ascription.
Deftly shifting from domestic to public spaces and from social media to ethnographic theory, Pardue describes an overlooked phenomenon transforming Portugal, one sure to have parallels in former colonial powers across twenty-first-century Europe.
_________________________________________________________________________________________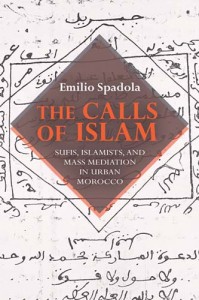 The Calls of Islam: Sufis, Islamists, and Mass Mediation in Urban Morocco 
(Indiana University Press, 2013)
By Emilio Spadola, Colgate University
The sacred calls that summon believers are the focus of this study of religion and power in Fez, Morocco. Focusing on how dissemination of the call through mass media has transformed understandings of piety and authority, Emilio Spadola details the new importance of once–marginal Sufi practices such as spirit trance and exorcism for ordinary believers, the state, and Islamist movements. The Calls of Islam offers new ethnographic perspectives on ritual, performance, and media in the Muslim world.
_________________________________________________________________________________________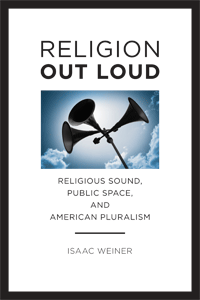 Religion Out Loud: Religious Sound, Public Space, and American Pluralism (New York University Press, 2014)
By Isaac Weiner, Ohio State University
For six months in 2004, controversy raged in Hamtramck, Michigan, as residents debated a proposed amendment that would exempt the adhan, or Islamic call to prayer, from the city's anti-noise ordinance. The call to prayer functioned as a flashpoint in disputes about the integration of Muslims into this historically Polish‑Catholic community. No one openly contested Muslims' right to worship in their mosques, but many neighbors framed their resistance around what they regarded as the inappropriate public pronouncement of Islamic presence, an announcement that audibly intruded upon their public space.
In Religion Out Loud, Isaac Weiner takes such sonic disputes seriously. Weaving the story of religious "noise" through multiple historical eras and diverse religious communities, he convincingly demonstrates that religious pluralism has never been solely a matter of competing values, truth claims, or moral doctrines, but of different styles of public practice, of fundamentally different ways of using body and space—and that these differences ultimately have expressed very different conceptions of religion itself. Weiner's innovative work encourages scholars to pay much greater attention to the publicly contested sensory cultures of American religious life.
_________________________________________________________________________________________
Sound, Space and Sociality in Modern Japan (Routledge, 2013)
Edited by Joseph D. Hankins (University of California, San Diego) and Carolyn S. Stevens (Monash University, Australia)
This book argues that sound – as it is created, transmitted, and perceived – plays a key role in the constitution of space and community in contemporary Japan. The book examines how sonic practices reflect politics, aesthetics, and ethics, with transformative effects on human relations. From right-wing sound trucks to leftwing protests, from early twentieth century jazz cafés to contemporary avant-garde art forms, from the sounds of US military presence to exuberant performances organized in opposition, the book, rich in ethnographic detail, contributes to sensory anthropology and the anthropology of contemporary Japan.
_________________________________________________________________________________________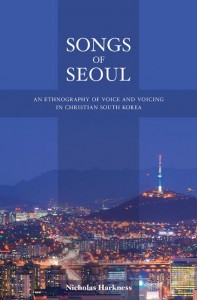 Songs of Seoul: An Ethnography of Voice and Voicing in Christian South Korea (University of California Press, 2013)
By Nicholas Harkness, Harvard University
Songs of Seoul is an ethnographic study of voice in South Korea, where the performance of Western opera, art songs, and choral music is an overwhelmingly Evangelical Christian enterprise. Drawing on fieldwork in churches, concert halls, and schools of music, Harkness argues that the European-style classical voice has become a specifically Christian emblem of South Korean prosperity. By cultivating certain qualities of voice and suppressing others, Korean Christians strive to personally embody the social transformations promised by their religion: from superstition to enlightenment; from dictatorship to democracy; from sickness to health; from poverty to wealth; from dirtiness to cleanliness; from sadness to joy; from suffering to grace. Tackling the problematic of voice in anthropology and across a number of disciplines, Songs of Seoul develops an innovative semiotic approach to connecting the materiality of body and sound, the social life of speech and song, and the cultural voicing of perspective and personhood.
_________________________________________________________________________________________
I'm Neither Here nor There: Mexicans' Quotidian Struggles with Migration and Poverty (Duke University Press, 2011)
By Pat Zavella, University of California, Santa Cruz
I'm Neither Here nor There: Mexicans' Quotidian Struggles with Migration and Poverty explores how immigration policy and politics as well as the local economy influence the construction of family, identity, and community among Mexican Americans and migrants from Mexico. Based on long-term ethnographic research, Patricia Zavella analyzes how the working poor struggle for agency and negotiate differences in legal status, generation, gender, sexuality, and language. Zavella examines migrant journeys, exploitation at workplaces, and the challenges that migrants face in forming and maintaining families. She proposes "peripheral vision" to characterize the sense of displacement and marginality felt by Mexican Americans and Mexican migrants. As she demonstrates, the desires of Mexicans to express their identities publicly and to establish a sense of cultural memory are realized partly through Latin American and Chicano protest music, and Mexican and indigenous folks songs performed by musicians and cultural activists.
_________________________________________________________________________________________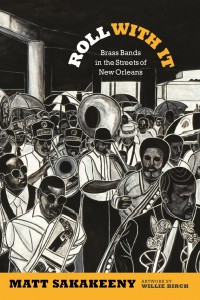 Roll with It: Brass bands in the Streets of New Orleans (Duke University Press, 2013)
By Matt Sakakeeny, Tulane University
Roll With It is a firsthand account of the precarious lives of musicians in the Rebirth, Soul Rebels, and Hot 8 brass bands of New Orleans. These young men are celebrated as cultural icons for upholding the proud traditions of the jazz funeral and the second line parade, yet they remain subject to the perils of poverty, racial marginalization, and urban violence that characterize life for many black Americans. Some achieve a degree of social mobility while many more encounter aggressive policing, exploitative economies, and a political infrastructure that creates insecurities in healthcare, housing, education, and criminal justice. The gripping narrative moves with the band members from back street to backstage, before and after Hurricane Katrina, always in step with the tap of the snare drum, the thud of the bass drum, and the boom of the tuba.
_________________________________________________________________________________________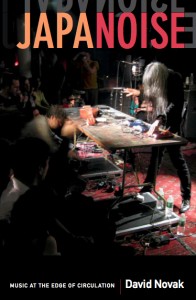 Japanoise: Music at the Edge of Circulation  (Duke University Press, 2013)
By David Novak (University of California, Santa Barbara)
Noise, an underground music made through an amalgam of feedback, distortion, and electronic effects, first emerged as a genre in the 1980s, circulating on cassette tapes traded between fans in Japan, Europe, and North America. With its cultivated obscurity, ear-shattering sound, and over-the-top performances, Noise has captured the imagination of a small but passionate transnational audience.
For its scattered listeners, Noise always seems to be new and to come from somewhere else: in North America, it was called "Japanoise." But does Noise really belong to Japan? Is it even music at all? And why has Noise become such a compelling metaphor for the complexities of globalization and participatory media at the turn of the millennium?
In Japanoise, David Novak draws on more than a decade of research in Japan and the United States to trace the "cultural feedback" that generates and sustains Noise. He provides a rich ethnographic account of live performances, the circulation of recordings, and the lives and creative practices of musicians and listeners. He explores the technologies of Noise and the productive distortions of its networks. Capturing the textures of feedback—its sonic and cultural layers and vibrations—Novak describes musical circulation through sound and listening, recording and performance, international exchange, and the social interpretations of media.
_________________________________________________________________________________________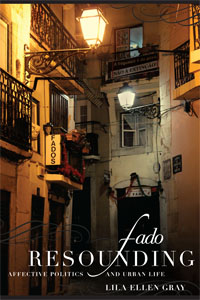 Fado Resounding: Affective Politics and Urban Life (Duke University Press, 2013)
By Lila Ellen Gray, Columbia University
Fado, Portugal's most celebrated genre of popular music, can be heard in Lisbon clubs, concert halls, tourist sites, and neighborhood bars. Fado sounds traverse the globe, on internationally marketed recordings, as the "soul" of Lisbon. A fadista might sing until her throat hurts, the voice hovering on the break of a sob; in moments of sung beauty listeners sometimes cry. Providing an ethnographic account of Lisbon's fado scene, Lila Ellen Gray draws on research conducted with amateur fado musicians, fadistas, communities of listeners, poets, fans, and cultural brokers during the first decade of the twenty-first century. She demonstrates the power of music to transform history and place into feeling in a rapidly modernizing nation on Europe's periphery, a country no longer a dictatorship or an imperial power. Gray emphasizes the power of the genre to absorb sounds, memories, histories, and styles and transform them into new narratives of meaning and "soul."
_________________________________________________________________________________________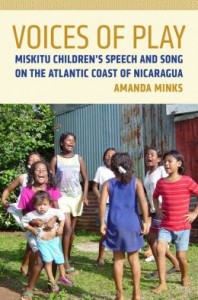 Voices of Play: Miskitu Children's Speech and Song on the Atlantic Coast of Nicaragua (University of Arizona Press, 2013)
By Amanda Minks, University of Oklahoma
On Corn Island, part of a multi-ethnic autonomous region on the Atlantic Coast of Nicaragua, indigenous Miskitu kids often gain competence speaking Miskitu, Spanish, and Kriol English. As the children of migrants and the first generation of their families to grow up with television, they develop creative forms of expression that combine languages and genres, shaping intercultural senses of belonging.  Minks weaves together Latin American, North American, and European theories of culture and communication to create a transdisciplinary dialogue that questions conventional wisdom about indigenous language shift.  Through discourse in interaction, Miskitu children's voices reveal the intertwining of speech and song, the emergence of "self" and "other," and the centrality of aesthetics to social struggle.
_________________________________________________________________________________________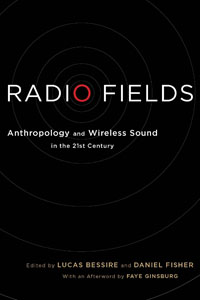 Radio Fields: Anthropology and Wireless Sound in the 21st Century (New York University Press, 2012)
Edited by Lucas Bessire (University of Oklahoma) and Daniel Fisher (University of California, Berkeley)
Radio is the most widespread electronic medium in the world today. As a form of technology that is both durable and relatively cheap, radio remains central to the everyday lives of billions of people around the globe. It is used as a call for prayer in Argentina and Appalachia, to organize political protest in Mexico and Libya, and for wartime communication in Iraq and Afghanistan. In urban centers it is played constantly in shopping malls, waiting rooms, and classrooms. Yet despite its omnipresence, it remains the media form least studied by anthropologists.
Radio Fields employs ethnographic methods to reveal the diverse domains in which radio is imagined, deployed, and understood. Drawing on research from six continents, the volume demonstrates how the particular capacities and practices of radio provide singular insight into diverse social worlds, ranging from aboriginal Australia to urban Zambia. Together, the contributors address how radio creates distinct possibilities for rethinking such fundamental concepts as culture, communication, community, and collective agency.
_________________________________________________________________________________________
My Voice Is My Weapon: Music, Nationalism, and the Poetics of Palestinian Resistance (Duke University Press, 2013)
By David A. McDonald, University of Indiana at Bloomington.
In My Voice Is My Weapon, David A. McDonald rethinks the conventional history of the Palestinian crisis through an ethnographic analysis of music and musicians, protest songs, and popular culture. Charting a historical narrative that stretches from the late-Ottoman period through the end of the second Palestinian intifada, McDonald examines the shifting politics of music in its capacity to both reflect and shape fundamental aspects of national identity. Drawing case studies from Palestinian communities in Israel, in exile, and under occupation, McDonald grapples with the theoretical and methodological challenges of tracing "resistance" in the popular imagination, attempting to reveal the nuanced ways in which Palestinians have confronted and opposed the traumas of foreign occupation. The first of its kind, this book offers an in-depth ethnomusicological analysis of the Israeli-Palestinian conflict, contributing a performative perspective to the larger scholarly conversation about one of the world's most contested humanitarian issues.
_________________________________________________________________________________________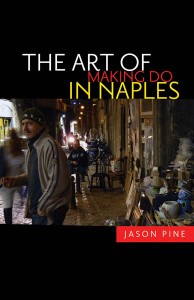 The Art of Making Do in Naples (University of Minnesota Press, 2012)
By Jason Pine, Purchase College – SUNY
The Art of Making Do in Naples (University of Minnesota Press, 2012) is an ethnographic study of the affective-aesthetic atmospheres of an informal economy charged with the constant yet ephemeral presence of the camorra, the powerful organized crime networks of the Campania region. In this informal economy, boys and young men (and some girls and women) aspire to become successful singers of Neapolitan-language pop songs (neomelodica music), but find themselves in the "contact zones" where crime bosses double as impresarios. These crime boss-impresarios promise singers investment and high returns by turning their territories of control into markets for musical performance consumption. Singers, in turn, become indebted to crime clans and must perform on demand.
The book explores the locally-named "art of making do," or the various ways people attempt to achieve a semblance of near-impossible personal sovereignty through various licit and illicit economic ventures and personal networks—and to do so without recourse to either the law or to over-entanglement with the camorra. Naples has had a long history of chronic unemployment, violence, and opaque forms of law and order in addition to vibrant popular musical and visual culture. Focusing on the art of making do shows how postindustrial neoliberal shifts have transformed otherwise enduring conditions in this notoriously politicized moral political geography of the Italian "South."
Drawing on theories of affect and aesthetics, the book provides an account of how the "intimate publics" in these contact zones–where the formal, informal and illicit economies overlap–are produced through intensely physical, verbal and emotional forms of contact, forms that include but are also magnified in the artistic performances of the hugely popular neomelodica music genre. The book's narrative form reenacts the fully embodied, self‐reflexive fieldwork that was necessary for and crucial to moving the ethnographic research beyond the self‐folklorizing and disassembling performances of the Neapolitan protagonists of this music scene.
_________________________________________________________________________________________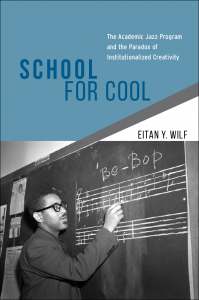 School for Cool: The Academic Jazz Program and the Paradox of Institutionalized Creativity (University of Chicago Press, 2014)
By Eitan Wilf, Hebrew University of Jerusalem
Jazz was born on the streets, grew up in the clubs, and will die—so some fear—at the university. Facing dwindling commercial demand and the gradual disappearance of venues, many aspiring jazz musicians today learn their craft, and find their careers, in one of the many academic programs that now offer jazz degrees. School for Cool is their story. Going inside the halls of two of the most prestigious jazz schools around—at Berklee College of Music in Boston and the New School for Jazz and Contemporary Music in New York—Eitan Y. Wilf tackles a formidable question at the heart of jazz today: can creativity survive institutionalization?
Few art forms epitomize the anti-institutional image more than jazz, but it's precisely at the academy where jazz is now flourishing. This shift has introduced numerous challenges and contradictions to the music's practitioners. Solos are transcribed, technique is standardized, and the whole endeavor is plastered with the label "high art"—a far cry from its freewheeling days. Wilf shows how students, educators, and administrators have attempted to meet these challenges with an inventive spirit and a robust drive to preserve—and foster—what they consider to be jazz's central attributes: its charisma and unexpectedness. He also highlights the unintended consequences of their efforts to do so. Ultimately, he argues, the gap between creative practice and institutionalized schooling, although real, is often the product of our efforts to close it.
_________________________________________________________________________________________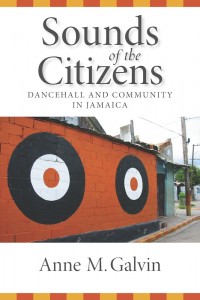 Sounds of the Citizens: Dancehall and Community in Jamaica (Vanderbilt University Press, 2014)
By Anne M. Galvin
Dancehall: It's simultaneously a source of raucous energy in the streets of Kingston, Jamaica; a way of life for a group of professional artists and music professionals; and a force of stability and tension within the community. Electronically influenced, relevant to urban Jamaicans, and highly danceable, dancehall music and culture forms a core of popular entertainment in the nation. As Anne Galvin reveals in Sounds of the Citizens, the rhythms of dancehall music reverberate in complicated ways throughout the lives of countless Jamaicans.
Galvin highlights the unique alliance between the dancehall industry and community development efforts. As the central role of the state in supporting communities has diminished, the rise of private efforts such as dancehall becomes all the more crucial. The tension, however, between those involved in the industry and those within the neighborhoods is palpable and often dangerous. Amidst all this, individual Jamaicans interact with the dancehall industry and its culture to find their own paths of employment, social identity, and sexual mores.
As Sounds of the Citizens illustrates, the world of entertainment in Jamaica is serious business and uniquely positioned as a powerful force within the community.
_________________________________________________________________________________________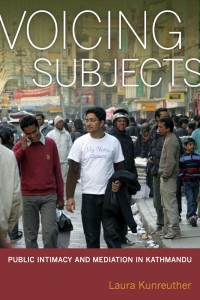 Voicing Subjects: Public Intimacy and Mediation in Kathmandu (University of California Press, 2014)
By Laura Kunreuther
Nepal's recent history is extraordinary: within a short span of time, the country endured a relatively peaceful 1990 revolution that reestablished democracy, a Maoist civil war, and the massacre of its royal family. As these dramatic changes were taking place, Nepalese society experienced an upsurge in both political and intimate discourse, and the two became intertwined as they developed. Voicing Subjects is an ethnography that explores that phenomenon, tracing the relationship between public speech and notions of personal interiority in Kathmandu by examining the two formations of voice that emerged: a political voice, associated with civic empowerment and collective agency, and an intimate voice, associated with emotional proximity and authentic feeling. Using personal interviews and examples in the media—in particular, radio—Kunreuther's careful study reveals the figure of voice as a critical tool for gaining an in-depth understanding of emerging subjectivity, structural change, and cultural mediation.